Decarbonizing Agriculture: Renewable Energy and the Sustainable Future of Food
September 19 @ 3:00 pm

-

4:00 pm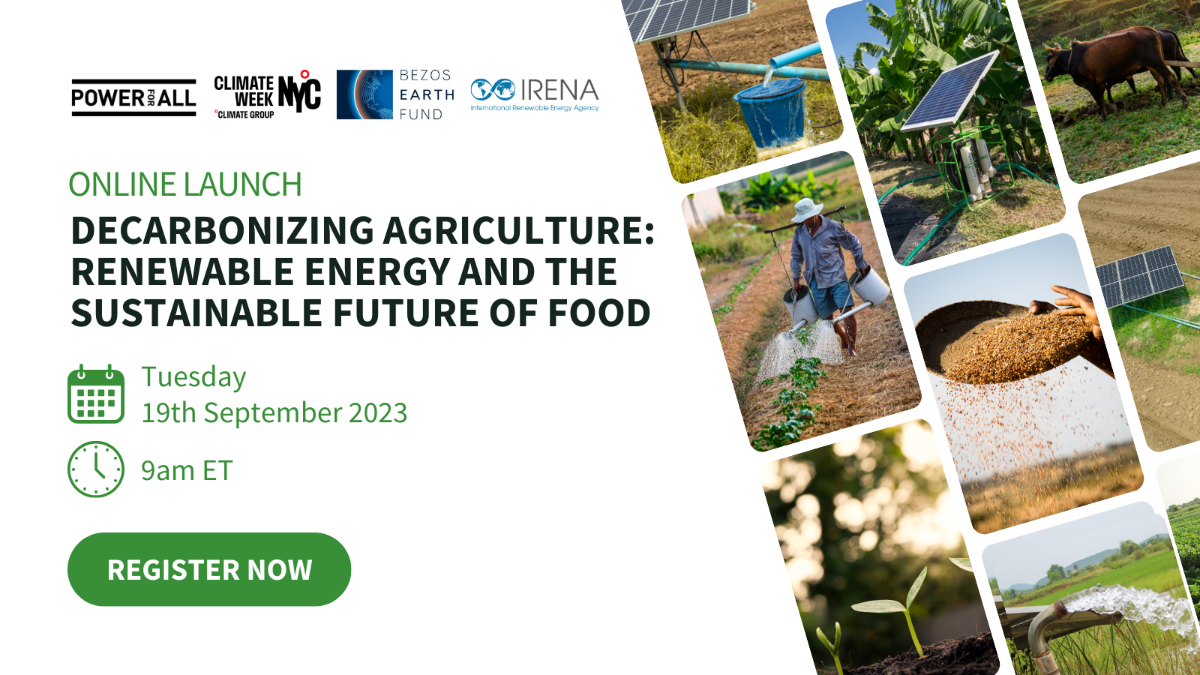 During Climate Week NYC 2023, Power for All is hosting a webinar with participation from IRENA, UN FAO, and others. This session will delve into the intersection of Sustainable Development Goals 2 and 7. We welcome you to join this enlightening discussion where we'll present our primary research findings. Discover how distributed renewable energy (DRE) can amplify agricultural productivity, contribute to the decarbonization of the food system, curtail greenhouse gas emissions, and mitigate the worst impacts of global warming.
Overview
Agrifood systems, using 30% of global energy and emitting a third of greenhouse gases, intensify the climate crisis. With a projected 60% surge in food demand by 2050, urgent shifts to sustainable and more productive agriculture are vital. Decentralized renewable energy (DRE) offers hope. However, particularly in the Global South, it requires immediate funding and effective government policies.
Session Outline
Distributed Renewable Energy (DRE) is emerging as a pivotal solution for agriculture, ensuring consistent power and reducing carbon emissions. This global launch event brings together a diverse array of stakeholders – from international funders, ministries, and private companies to media and farming communities. Join us for a research-driven panel discussion led by experts including:
The discussion will delve into:
Relevance of DRE: While countries work to further their agricultural development, the potential of DRE is often overlooked.
Applications and Opportunities: Finance and policy initiatives need to be strengthened to ensure DRE technology is available for smallholder farmers.
Initiatives in Action: We will highlight real-world examples that showcase the benefits of integrating renewable energy with agricultural methods.
Impact on Climate Change: DRE is not only essential for power generation but also plays a role in combating climate change. We will present data on how integrating it into agricultural strategies can combat the negative impacts of climate change on food systems, helping ensure food security.
Through our research and this discussion, we aim to demonstrate that by emphasizing DRE in agricultural strategies, stakeholders can boost efficiency, advance sustainability, and mitigate the impacts of climate change.
Register here