LONGi and Sungrow have been highlighted as top solar brands in BloombergNEF's PV Module & Inverter Bankability 2020 report published on 13th August 2020 with Sungrow awarded a 100 percent Bankability Rating for a second year.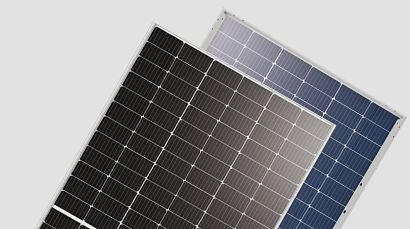 Courtesy of LONGi
BNEF surveys solar industry participants covering 32 banks, funds, solar engineering contractors, independent power producers and technical advisers from a global landscape. The report, which considers the manufacturers' capacity in the field, financial health, local support and service, the warranties and technical features as major indicators, is an essential reference for financial institutions in granting commercial credit and developers in choosing the inverter brand.
The aim is to assess which module brands used in projects are most likely to obtain non-recourse debt financing from commercial banks. Survey respondents included banks, funds, solar engineering contractors, independent power producers and technical advisors from all around the world.
The survey investigated basis parameters such as product quality, long term reliability, field deployment performance, and the manufacturer's financial strength.
LONGi (and its products and services) was rated by 100 percent of survey respondents as fully bankable with the company highlighted as a top solar brand in term-loan financed projects.
Inverter solution supplier Sungrow was again ranked 100 percent bankable in the latest PV Module & Inverter Bankability 2020 survey, becoming the only inverter supplier ranked 100 percent bankable for two straight years.
The survey highlighted the fact that solar projects using Sungrow inverters have been able to access non-recourse term loans from banks, ensuring a favorable and steady return of investment for investors, with LONGi modules also able to secure long-term debt financing with greater ease.
A key finding of the report, is that bifacial modules (which are the lead products offered by LONGi) have been ranked as highly bankable by all survey respondents, showing that bifacial technology has emerged as a standard in the global solar industry.
LONGi's bankability in the survey rose rapidly from a rating of 67 percent in 2018 to 100 percent in 2020, reflecting not only the company's improved comprehensive strength but also recognition of the brand by customers all over the world.
Key factors that have contributed to LONGi's success include continuous efforts by the company in advancing technology, improving product quality and efficiency, and its business philosophy of "expanding production only with leading products", which dictates that each new capacity is matched to new upgrade of product technology.
Sungrow attributes much of its success to its continued efforts in helping to provide "Clean power for all". The company boasts the industry's largest R&D team and it has a proven 23-year track record. Sungrow focuses on the development of cutting-edge product portfolios to meet the global surging demand. In order to achieve this, the company operates industry-leading testing centres certified by major international bodies like TÜV, CSA, UL and CNAS, which guarantee prominent reliability. Meanwhile, Sungrow also deploys agile local teams offering technical support, sales and 24/7 after-sale services.
Sungrow's latest H1 financial report shows a 55.57 percent year-on-year growth in revenue, underlining a robust and preeminent performance in sustainable development.
In its Q3 2020 Global PV Market Outlook report, BNEF rated LONGi  the most financially secure solar manufacturer with the highest Altman-Z score amongst pure play solar manufacturers. Bankability, as defined by BNEF, refers to the willingness of a bank to provide a term loan to a project that uses a specific module brand. This in part is quantified in terms of Altman-Z score, which measures a manufacturer's financial stability. The higher the score, the more financially strong a company is and hence, the better the bankability. BNEF 3Q-2020 report rated LONGi an Altman-Z score of 3.27, the highest in the world amongst all solar manufacturing companies.
LONGi has the largest annual capacity of PV Module Manufacturers meeting BNEF's Tier 1 Criteria in 3Q-2020. BNEF defines Tier 1 brands as those which have supplied projects backed by at least six commercial banks in the last 2 years. The main criterion is bankability. LONGi is listed in BNEF 3Q 2020 Global PV Market Outlook as a Tier 1 manufacturer with the highest annual capacity of 20,000 MW/ year.
Alongside being the largest global module manufacturer, LONGi is also the largest wafer manufacturer. The BNEF report highlighted the company's successful and forward-looking strategy to mitigate supply chain risks commonly encountered by players in the sector. An example is the ongoing polysilicon crunch, which, though temporary, has been painful for several downstream manufacturers. LONGi has been successful in managing to overcome this problem by securing its raw material supply for a much longer term.
"As one of the leading global PV technology company, we are delighted to be rated as the most bankable module brand with the highest Altman-Z score" said Dennis She, VP of LONGi Solar. "This is a recognition of the power generation performance, reliability and advancement of LONGi's PV modules. It is also a testimony to the outstanding efforts of LONGi team and our customers' confidence in LONGi's technology leadership. LONGi is committed to pushing forward the decrease of the LCOE while improving its module bankability in the photovoltaic industry through continuous innovation. We believe that high-quality products will help our customers as well as their investors maximize returns."
LONGi focuses on developing and delivering high efficiency, high reliability and high-quality modules, taking the lead, for example, in large-scale application of high-efficiency PERC technology and promoting its industrial application, rapidly improving product efficiency and greatly reducing the levelised cost of energy. Mono-crystalline PERC modules produced by LONGi have ranked first in the global sales for many years.
The company has established a complete customer service standard for all its customers, fully committing to best-in-class service. It has also maintained its ability to manage risks and cope with market changes, giving priority to its financial health and operational strength.
Project financing is paramount for industry players as the global solar market expands due to the falling levelised cost of electricity (LCOE). As one of the most credible third-party renewable energy research hubs, BloombergNEF's inverter bankability survey offers stakeholders reliable proof of product efficiency and company bankability.
Read original article here